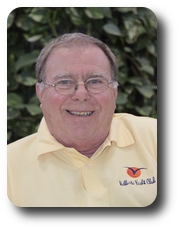 On behalf of the Officers, Directors, members and the entire staff of the Vallarta Yacht Club it is my distinct pleasure to welcome you to Nuevo Vallarta, Mexico for the 2016 Laser World Championships hosted by our club this coming Spring.
Just 13 years ago a group of local visiting boating enthusiasts joined together to found what has become the cornerstone yacht club in the Banderas Bay, Riviera-Nayarit area. In 2005, the Club members established a Junior Sailing program which brought the pristine, ideal sailing conditions of the Bay to the attention of the extended sailing community. By 2007, the Club hosted J24 Worlds and the North American Optimist championships; followed by the Mexico Ocean Racing Circuit and co-host of the San Diego-Vallarta Race in 2009. The Club was selected to host the 2011 Pan-American Sailing event, the Mexican Youth Olympics and, in 2014 to again host the North American Optimist championship. The Club's two annual signature regattas are the very popular WesMex International Small Boat Regatta and the International Banderas Bay Regatta for cruising boats.
The months of April and May were chosen as they offer the best of our eight months of exceptionally reliable sailing conditions. This sunny weather with average temperatures in the low to mid 80s F.(29 C.), is also great for all kinds of outdoor activities whether boating, golfing or even horseback riding along the 100 miles of Bay coastline, or RVing in the cooler mountains. There is no need to rent a car as nearly everything is available within walking, bicycling or free shuttle service.
All of you are encouraged to come early or stay after the intense competition in the warm steady breeze in warm water leading to fair and fun beach town lifestyle.
Dan Green - Commodore
Vallarta Yacht Club